Dark Orbit is one of the most popular multiplayer game of the Big Pointe collection. Take the adventure of managing a mighty fleet of ships, build your empire and defend it from invasion from outer space.
Dark Orbit takes place at the end of the third millennium. The country has become inhospitable, and people are looking for a new habitat discover new materials in the depths of the universe.
In the beginning you choose a company for which you want to work: Mars, Venus or Earth. You are at the helm of the basic model spacecraft Phoenix with the task of collecting raw materials, in order to enhance and progress in the galactic hierarchy.
When you collect minerals, be careful and avoid enemy ships. After you fill the tank, to sell their treasures in the laboratory or stores. With new weapons and different types of ammunition, you will have the advantage on the battlefield.
Do you own the necessary dose of patience to improve your spaceship, Dark Orbit will surely become your favorite way for the hobby and leisure. As you progress through the game, you join an alliance or create your own, would not you able to survive in the harsh environment of an infinite universe.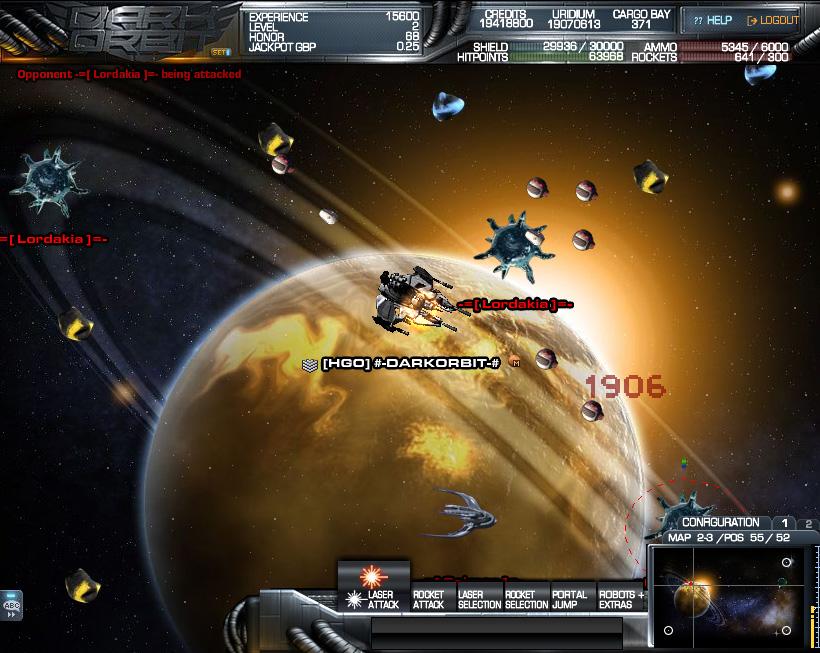 Dark
Orbit
you
require
some
clever
tactics
and
strategy
,
and
speed
and
courage.
Never
drop the
enemies
out of sight
,
and
you will
,
with
luck
,
to survive
in
the vastness of
space
and
dominate
them
.
Good luck
!